Would you like to be a part of a powerful and uplifting project?
Lori Deschene, founder of TinyBuddha: Simple Wisdom for Complex Lives has created a fan following of (at blog post time): just under 12,000
Facebook Fans
, and a whopping 96,000
Twitterers
. Deschene also created a
website
where you can subscribe and receive daily wisdom in your email inbox. It's all quite refreshing, motivating, and inspiring.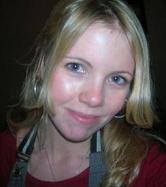 Lori Deschene,
Founder of TinyBuddha
sharer of happiness and joy!
The quotes Tweeted by
@TinyBuddh
a always make my day brighter. For example, here are some of her recent tweets:
"To be beautiful means to be yourself. You don't need to be accepted by others. You need to accept yourself." Thich Nhat Hanh
"You only lose what you cling to." ~Buddha
"Freedom is not worth having if it does not involve the freedom to make mistakes." ~Gandhi
Now you can be a part of spreading goodness and kind, thought provoking words as TinyBuddha invites you to contribute to a book of wisdom that will soon be published.
You can participate via Twitter with full rules posted
here
.
Congratulations, Lori, and thank you for using TinyBuddha to bring joy and hope to so many.
Namaste,
Debbie aka Sulilo